I Cried Tears For Dresden
February 13, 1997
---
Though I never knew them, though they died months before I was born, I can not help but to still feel the pain of those innocent people of Dresden who suffered so unjustly, unfairly, and totally without fault February 13, 1945. They make me think of abused children suffering for something that they do not understand. Abused children in a small way share with those
now departed souls of Dresden the total unjustness of this world. Innocent people would not in a fair world, a decent world, be made to suffer.
They died this night. So many of them. Bombs raining down upon their heads like manna from hell -the heads of defenseless women and children for the most part. Babies in their cribs. Sobbing children in their mothers arms. Little girls without blemish, little boys full of anticipation at the excitement life promised them. The girls became blemished heaps of burnt flesh. The promise was broken by life to the boys. There would be no future for them.
Even now, across time, distance, culture, language, and ocean, I hear their cries. Ten thousand per second raising their helpless, tortured voices for mercy. No mercy. No relief. Only painful death from planes with United States written on them.
Why did my father's generation do this? How could they kill all these people - then not know about it?
My father a decorated, battle field commissioned, combat hardened infantry veteran of Roosevelt's army, told me as I lay at his feet as a small child listening that "Hitler was bad but the German people were good." The Germans were "very smart" they just had a bad leader he said. He was proud of his role as a soldier in defeating Germany. And if soldiers are without responsibilities for their role in history then he had more right then many to be proud of his many decorations.
Then in 1984 after discovering the horrible truth about Dresden I spoke to my father about it. I told him more people were killed there in a single night of fire and bombing then in England during the entire war. He said "that is a lie." He refused to
believe me. I stressed to him that they were innocent people. He became angry with me. I asked him why they were killed. His anger boiled over and he said I was believing Nazi propaganda. I said to him "there are no Nazi's daddy you killed them all, there are only people who study history" while pulling an Encyclopedia Americana from the shelf. The encyclopedia while only admitting to a numerical fraction of the dead at Dresden was yet sufficient to exceed England's total bombing dead.
"These were refugees fleeing the communists" I said, becoming angry myself. "Why did Roosevelt order it done?" I demanded of him.
He read it and became silent. He read it again while running his fingers along the words carefully touching the numbers as if to make sure they were there and real. It then dawned on me. He did not know! He had lived through this time and because of a constant flood of propaganda from America's news media this horrible war crime and others like it had been kept from him.
I could see this troubled him, for it was from him that I acquired the proclivity of taking up the fight for the down trodden, those abused unfairly. He was a kind man and would have never knowingly participated in such cruelty. I left for home then feeling sorry for Dad. I left him to think in peace. My anger at his being a part of those who did this horrible thing abated.
I swear I will not forget the crime against innocent people at Dresden. I will not forget who is responsible. I will not forget! I am but one small life. One dim light in a world covered with the darkness of cruel machinations by evil men. But this little light of mine, I will let it shine! For only by doing so do I serve my reason for existence, for life, for eternity.
I read as a young person that "all that is necessary for evil to triumph is for good men to do nothing." Those words became a part of my soul, my life. Love is put to the test when one takes on the suffering of others - when one becomes a voice against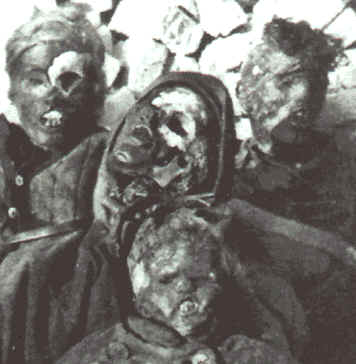 evil for those who have none, a target of abuse for doing nothing but standing for justice.
There is no reward save knowing you have done that which is right. And there is hope. Hope that others will make the light that truth is a part of their life, their existence, so that together we become a bright ray for the future. A light unto the feet of all our fellow men who stumble.
In distant Dresden park they lie in their graves now. Rest my unknown friends, you downtrodden and despised of this world. Though we could not speak the same language if we stood before each other, though I never knew your names, and while your faces I can only imagine, you are my departed loved ones. My heart beats for yours. My mind remembers for yours. My tears for yours...
A Previously Unpublished (in toto) Essay By Louis Beam 2/13/97
---